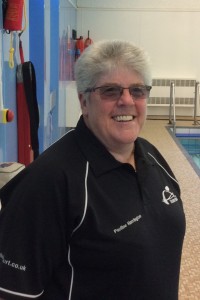 Pauline Harrington, our Masters coach
When did you join Team Luton?
I joined the swimming club when it was still called Luton Amateur Swimming Club way back in 1959
If you were a member of a club or clubs before, did you compete and if so to what level?
I just swam for the school team, no club. I later joined Lewsey Swimming Club.
When did you first swim competitively as a Master?
My first Masters competition was at Otter SC in London in 1977
What / when was your most notable achievement (to date) as a Masters swimmer?
I have a few notable achievements. They are winning medals at World Masters Events all over the World.

What / when was your most memorable / enjoyable Masters swimming experience?
I think the most memorable and enjoyable was winning the Gold in 200mts Breaststroke at the Worlds in Sheffield in 1996 by a quarter of a length and with all my Luton team mates there. Also the fun we had ……

Who / what gets you (out of bed) to go training (at the end of a working day)?
Stan kicks me in the back when the alarm goes off!! ….. and the thought of seeing all the handsome fellows at the pool

What's the best part of a Team Luton Masters training session?
The best part for me is seeing the expressions on the swimmers' faces when I tell them the sets!

Why do you still compete / train?
Replacement knees do not let me do Breaststroke any longer so I have not competed for some time. I had been coaching the non-competitive Masters and when the main Masters coach suddenly left, one of the squad suggested I take over.  As an ex-competitor they thought I might appreciate how the swimmers felt during a training session, particularly when they got tired!

What interests do you have outside of Team Luton Masters?
Spinning, going to gym classes, making things and machine embroidery

Anything your club mates don't know about you (and you might be willing to now reveal)?
I think they all know about me by now!